Our Mission
The Apex Freestyle Club offers learn to ski programs based around the fundamentals of freestyle skiing.  First and foremost is teaching kids to be comfortable skiing on any run on any mountain in a safe and competent way.  As every child gains confidence in their skiing abilities, they become more daring and adventurous.  We take that spirit and direct it in a safe and exciting way.

The goal of the Apex Freestyle Club is to bring out the full potential of every child while implementing the proven methods and safeguards set forth by Freestyle Canada.  We begin at the Jumps & Bumps stage at the ripe old age of 5 and develop the child into a true athlete by the time he or she is ready for the Competitive Team at 13 through to 18 years of age.

The facilities that our club has built over the years on the mogul and big air sites at Apex, the ever expanding slopestyle park and our totally revamped water ramp facility, stands testimony to our club's commitment to the sport of freestyle skiing and backed by the volunteer help from our club members.  We are recognized not only nationally, but, worldwide for our unbeatable facilities, excellence and volunteerism.  We are the Apex Freestyle Club… the best freestyle club on the planet!
Congratulations 2017/18 AFC Athletes
BC Mogul Team – 7 athletes from the Apex Freestyle Club   
Alberta Mogul Team - 2 athletes from the Apex Freestyle Club
Ontario Mogul Team - 1 athlete from the Apex Freestyle Club
Canadian National Mogul Team – 2 athletes from the Apex Freestyle Club
A Word From Our Head Coach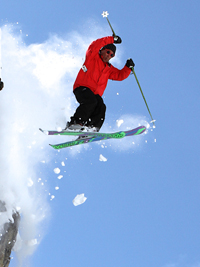 "When I began Freestyle Skiing back in the early 70's, it was as much fun to watch as it was to participate.  Apex was where I grew up learning and training freestyle with my friends.  The sport has grown and changed over the years but the one thing that has remained the same, is the fun and having that fun with friends old and new. This is the inspiration I give to all my coaches and I'm confident it shows in the kids/athletes that they coach.  Although I have been involved in the sport of Freestyle for over 4 decades, I never stop questioning it's limitations, which brings to mind the old adage "You can't teach an 'old dog' new tricks",  I think that I am living testimony that you can!"
Kenni Kuroda - Head Coach & GM

World Powder 8 Champion
Canadian Amateur Freestyle Champion
Canadian Professional Freestyle Champion
European Professional Mogul Champion
2x Japanese Professional Freestyle Champion